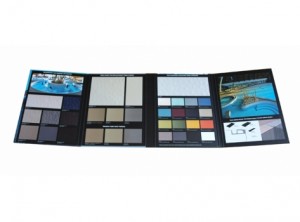 During the last edition of Graphispag (May 24-27th, Barcelona 2015) the visitors could check how the digital printing adapts to the new era and is able to print on all kinds of surfaces.
All eyes were on the PrintAllExperience show at the trade fair, where an apartment, a bar and a shop were made of printed sheets.
This activity showed the different possibilities of new technologies, which ones are possible to print using different techniques, supports and formats. We could see and touch a wide range of objects, conventional products like catalogues, flyers, books or magazines and original things like walls, floorings, furniture, tiles, carpets, dinnerware…
Even though paper is still the main printing material, the new printed materials are gaining in popularity because its qualities add value to a product, for example tailor made sample presenters that have a lot of supports to fit into the project.
THE BEST TOOL TO MEASURE THE QUALITY OF A PRODUCT IS ITS PACKAGING MADE BY PROFESSIONALS
This brand new technology offers an infinity of possibilities to create store, home, hotel, and office atmospheres. With this wide range of facings out there, it is possible to make cheaper materials look like more expensive materials such as marble.
The best tool to prove the quality, touch and shine of this original facings is no other than present real samples of the product in a quality sample presenter made by a professional like Mytplast.
At Mytplast we have a lot of experience in manufacturing different formats of high quality sample presenters. Our technical team knows perfectly how to design an efficient sample presenter to become the best letter of introduction.
That is why we are conscious that the construction, trasnports closure & opening methods, weight and dimensions of the sample presenter have to be designed depending on the material that it will contain/present. It has to be easy to transport both for the professional that works with it and for the customers comfort who will inspect the sample presenter.
Our work is focused in creating useful and practical supports for professionals of any sector adding value to their companies and at the same time helping them to be able to show real samples to their customers.
Related items:
–  We visited Graphispag to understand the latest packaging techniques and tailor made sample presenters
– How to approach packaging: know the right materials for your products