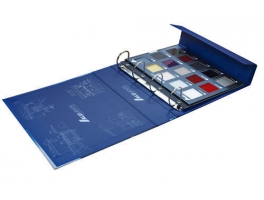 The brand/product image is one of the main factors that will influence customer decision.
Consumer behaviour studies show that buyers usually make a decision based on an emotional component. A tailor made and well designed sample presenter made of quality materials with the corporate image on it will be an important selling point.
Packaging is a pivotal part of the product, this fact cannot be ignored. Packaging will be the first contact that the customer will notice and it will be decisive. Brand identity has to be present in every detail: bespoke folders, packaging, sample presenters…
Every single product needs its specific packaging that respects the product features: weight, volume, fragility and potential customers… These are some points to consider while designing the packaging to make a product more attractive.
MYTPLAST OFFERS A WIDE RANGE OF MATERIALS
At Mytplast we know the best way to present your products. We create sample presenters and bespoke folders with the identity of your company.
We manufacture sample presenters for all kind of products: Tiles, wood, cosmetics and perfume products… developed to add value to the product and entice your customers.
Vinyl, polypropylene, foamy, corrugated cardboard, foam… are some of the materials used for the packaging manufacture. Every product has a suitable packaging.
Vinyl is a hard and flexible material than can be modified and customised with screen printing, hot stamping,…The main products made of vinyl are folders, cases, magnetised strips, menu notebooks….
Another material used in packaging is polypropylene. Because of its flexibility, it can be bent, die cut or sewn up… This is the reason why it is used for the manufacturing of all kind of exhibitor stands, suitcases, briefcases. We have a wide range of polypropylene colours.
Cardboard is a cheap material yet strong, resistant and recyclable. We can make all kind of types of boxes, folders, briefcases. There is a wide range of colours and it could be customised with different print and die cut methods.
No matter what product you need to present, at Mytplast we have the best system for packaging to add value to your company.
Related items:
–Corporate image and merchandising magnitude.
–Advices for choosing and designing folders for the education field.