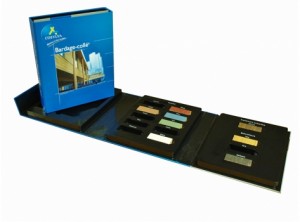 A sample binder is a very useful tool within marketing campaign for diverse sectors such as car constructors, cosmetics and graphic arts to name a few of them. Sample products are sent to customer so that he/she can appreciate at first sight product technical data of which he/she will be interested. It makes easier for the customer and manufacturer when closing the deal with only pictures.
Mytplast has a large variety of tailor –made solutions to offer for product and service introduction…from small but functional binders to boxes and case bounds with an innovating design. Our packs are professional and adapt themselves to all marketing for textile, interior, printer, chemistry, fair-trades and conventions, etc…
In our website, you can find very easily all our range of products of sample binders well structured by sectors for example on the above thumb grip need ideas for your company? Here you can look for examples and find what you were searching.
Sectors using sample binder in order to sell more
Binders for bank and insurance business
Bank and insurance worlds work with specific documents. Corporative material, information to customers and merchandising for these sectors have very different products. Some of them are specifically used by employees such as binder with several compartments and manufactured according strict measurements. They keep a lot of documents. Rubber binder, case bounds and other corporative instructions are also diary tools. If you want to complete some binders your customers can add a business card PVC holder of ring binders.
---
Binder for the collecting sector
Case bounds for collecting sector are perfect to insert products such as bottle of spirits. For luxury product, Mytplast uses delicate raw materials such as velvet which gives a sophisticated touch to the samples. For stamp collector, business cards, post cards, coins, etc… Mytplast has a ring binder with PVC tailor-made holders which allow customers to see sample with a full view.
---
Sample binder for construction an interior sectors
Constructors, interiors and others work with heavy materials and extreme color charts. For that, the best solution is a sample binder manufactured with resistant materials and light at the same time. Sample binders can sometime adapt themselves, choosing the right measurement and perfect material for each product. The color chart is very practical, not heavy and functional when showing finishes to customers.
---
Other sectors which use sample binders
Industrial, textile, Chemistry, Perfumes, Cosmetics…
We invite you to get to know our section of ideas regarding sample binders for companies and discover all we can do for your business…
Other posts for you:
– How to manufacture a sample binder with Mytplast?
– Sample binders: 6 types of binders!
Shall we talk of best option for your samples?