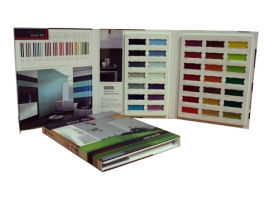 A professional suitcase of sample binders must offer the possibility to conceive unique marketing tools, within its dimensions or materials and finishing in order to perfectly adapt to the type of product and clearly identify company´s business profile.
---
Type of binders: What do you have to take into account?
The most important think to take into account is to choose the type of binder you may want to conceive. For that you must contact a sample binder manufacturer which relies on technology, machines and qualified human beings. This manufacturer will understand you project and make it real showing an elegant, practical resistant and easy to carry marketing tool.
There are a lot of sectors which need a handful sample binder with specific products. That is why you must personalize your sample binders. Thus, it is not the same to conceive a sample binder for the Wood industry and one for the textile or jewelry industry. Each sample binder is unique and carefully studied.
---
Sample binders amongst sectors
The construction sector is for example very focused on big and heavy samples. A color chart/binder for an inside Architect will have a very different external structure.
In our catalogue, you will be able to see multiple examples for binders, from the easiest one to very furnished one but always suggested by our team expert and with your company´s logotype.
---
Sample binders made by Mytplast
Some examples of our sample binders are the following:
Ceramic sample binder. Perfect to introduce construction materials. Made of cardboard and printed 4 colors outside + OPP mat. It also has a handle and a grasp closure system to carry it very easily. Samples are placed vertically.
Fornica binder. The inside is thermoformed in order to place different samples. Handle and magnetic closure flap.
Sample marble binder. A very heavy material which needs a solid binder. We thought of a suitcase made of cardboard very resistant paper overboard with specific paper and screenshot printed. Samples are blocked by PVC trays which are welded onto the binder.
Sample Church window binder. Made of PVC racks which allow placing samples vertically.
Aluminum sample binder. These boxes are manufactured en cardboard printed in 4 colors with OPP mat. Samples are onto a cardboard tray. These PVC racks allow samples to be inserted vertically.
Tile sample binder. Very useful for the tiles company with big sample size. Manufactured upfront orders, cardboard and elegant finish using OPP mat. The handles are die cut in order that they get more resistance to the weight.
Whether you sector is related or not, we DO have the best solution: Curtain sample binders, seed sample binders, color chart sample binder, nail sample binder…We manufacture what you need.
Also:
– Ideas to conceive sample construction binders
– Which are the ideal systems for the presentation of sample presenters?
What is your sector? What do you want to introduce? What target to you claim?
Mytplast will help you choose the best and cheapest option for your company´s interests