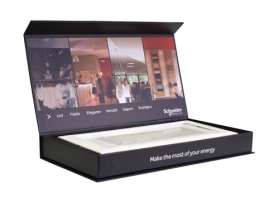 Kits and cases of product presentation are an essential support tool for the sales team of a company. They are also one of the best forms of advertising at the point of sale, highlighting face competition.
A case for sample product with a cared design and quality finishes, as those which Mytplast offers, should not lack within our marketing strategy, especially when we want our products be known. The great advantage of bespoken kits and cases is that they can be adapted to the sizes and formats of the samples, so when shown, the product is much more attractive and highlighting as if it was simply shown in a picture included in a brochure for example, and add value to your band.
In Mytplast we develop the pieces of the presentation kit/Set, from the beginning up to its manufacture. The materials are carefully selected and an advanced technology printing system is used with the aim of warrant a professional and elegant finish.
When talking about design, there are many possibilities concerning materials and personalization. Here some of them:
Case for a product sample
Our cases are an ideal display to show the products in a professional and easy to handle way. They are practical for most of the product samples as they can be adapted to different shapes and sizes. They are made of case bound cardboard with 4 colour printed sheets and Matt lamination to lend elegance. Its magnet closure system makes them easy to be opened.
The inside nests may be manufactured with black compact foam or case bound die cut to size card board. In this last case, a thumb grip may be added to easy take of the sample.
Presentation sample made of micro canal card board
The micro channel presentation cases, die cut to size and offset printed, have an elegant impacting design.
The lid is manufactured with mini micro cardboard, 4 colour printed and matt lamination, which lends a modern and sophisticated look. The interior nests are made with same material and same finishes. The closure is with a die cut little flap.
Termophormed blister to present cosmetic products
We manufacture our moulded blisters with termophormed clear PVC, a practical way of presenting your cosmetics and pharmaceutics. As they are made to measure, its shape adapts perfectly to the sample. Thanks to the die cut handle, it's easily used.
Related Articles:
-Know the sample solutions and folders for education sector