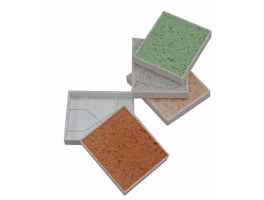 At Mytplast we are professionals in designing and elaborating bespoke folders and sample presenters projects. Our main target is to offer comprehensive solutions for your catalogues, documents or product samples that gives an added value to your company.
Our assortment of sample presenters offers a wide range of boxes and cases made specifically for presenting every kind of product out there. We know that a good presentation is key, that is why we take care of every single detail.
We produce tailor made sample presenters made of high quality materials and an elegant, practical and  modern design. Our comprehensive service goes from manufacturing to elaboration and die cutting.
SAVE TIME WITH OUR SAMPLE HANDLING SERVICE
One services we offer is sample presenter handling, which includes gluing, cutting, labelling, quality control, putting the samples in to the sample presenters…
We create bespoke samples depending on the product that your company is producing , wood, tiles, crystal, carpets, cement… Then we can customise the die cutter shape, the cases and accessories of the sample presenters.
Putting the samples in to our trays made of injected plastic or thermo formed PVC, means the samples are able to be taken out of the tray and placed into the tray again, whenever you need it.
In our workshop, our specialised team create the samples, put them in to the cases, folders, boxes, presenters… When the sample presenters are finished with all the samples in, we send the final product to your company, ready to be forwarded on to your customers or distributors.
At Mytplast we can receive, clean, label, cut, select and glue the samples in to the sample presenter, to make our customers life easier.
With our handling service, you only have to send your samples to us with a reference. We will do all the work and send to you the finished sample presenters.
We will plan your catalogues, binders, folders, and sample presenters with the most accurate presentation and details.
At Mytplast we know what we do, and how important it is to have an excellent presentation made of high quality materials to increase your corporate image. 
Related items:
– Tips for designing samples presenters for Building Materials
– Tips for choosing and designing folders for the training sector