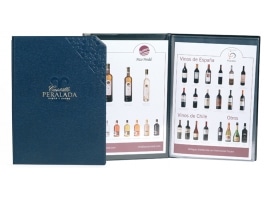 Hotel and restaurant business, need offering their clients a menu where consulting easy and clearly the dishes and drinks the local offers.
Menu is not only an informative document with dishes and prices, it's a powerful marketing tool that serves to increase customer loyalty in the same way they do care, service and product quality.
Therefore, is of great importance taking care of the menu design, materials used and the writing of it.
All these elements should contain corporate identity faithfully and according to the image of the local, the bespoken menus have to transmit it. Design is going to be different for a fast-food local than for a pub, a restaurant or a wine cellar.
The content of the menu have to be well structured so that clients find easily the dish they want taste. Usually, the order used in the menus is the same in which the dishes are taken: starters, main courses, fish, meats and desserts. The winery is usually displayed on a separate page at the end of the document.
Typography, format, paper quality and images are design elements transmitting much about our restaurant or pub as well as the size of the menu-holders, which should be according to the size of the tables and easier to handle.
The choice of the material of the menu has to be done with care, as this is the essential element for the image of the local, but furthermore it's necessary thinking on the hygiene and the logistic.
Design of menu holder
The menu-holders may become dirty easily so that the material of the outer should be washable and resistant to use. If we do not want to change the menu whenever there is a change in a dish or a price, the ideal is that the menu-holders have inner sleeves enabling a letter leaves are modified.
Menu-holders manufacturers, as Mytplast, use polypropylene or PVC to produce these pieces for their resistance and easy cleaning.
Yet to prolong the life of the cards is recommended to avoid exposure to sunlight or other heat sources to prevent warping. They should be stored in a cool, dry place to keep them in good condition for longer.
In our catalogue of products we have available PVC or polypropylene menu-holders. We manufacture and customize them with your logo in offset or screen printing. The interior contains transparent sleeves with top opening to place the menu or a la carte.
Our menu-holders are the perfect piece for the clients of your hostel or restaurant business to have always a menu in excellent conditions, clean and elegant.
Related Posts:
– How we process your folder and Sample Presenter Project.