Lots of companies need to introduce their samples to customers or providers. Especially in several sectors such as construction, it is very important that sample handling and carry samples are well managed. This type of products is introduced in piece of big size having a considerable weight. Thus, some are fragile and need sample suitcases which are very resistant.
Our system to introduce simple is quite divergent using a large range of sizes and dimensions which adapt to each product data. Furthermore, we manufacture Taylor ´cut sample binders to products with high shape and dimension or need a special attention for introduction.
Our experience in this sector allows us to design and elaborate sample suitcases, case bounds and boxes very different, manufactured with high quality material, resistant, attractive and light.
We offer you an introduction to new solutions to carry samples:
Suitcases for samples: Types
This suitcase is very practical for samples used in Construction sites such as mortars. PVC is used so we achieve a very light suitcase. The handle is made of OPP translucide on the spine and easy to carry. The closing system is provided with Velcro patches easy to open and close at anytime.
Within sample presentation, a PVC pocket sheet is included using thumb grips on which you can place documents with all information about company and products.
Inside the binder we have 3 PVC thermoformed nests covered with a Glasspack printed in 4 colors which contains information on each sample.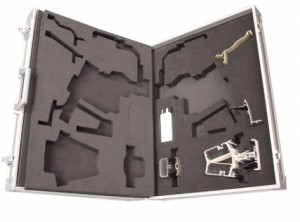 Suitcase to introduce aluminum profiles
This suitcase is ideal either to introduce aluminum profiles or Wood samples. It requires special sizes for a specific binder.
The inside contains foam nest cut with a specific shape and size adapted to samples. When profiles are set in the foam which is a soft and resistant material, sample is perfectly fixed and no harm will be observed even though you want to take them out. For a better care, samples are protected with a die cut foam lid which can be taken out and put back very easily.
Suitcase for ceramic sample
Ceramic samples are big and heavy. Our introduction suitcases have a very similar size to ceramic sample in order that your customers can view better the complete sample. This does not impede that carrying and handling of sampels are very light and useful.
In order to manufacture these marketing tools, we use cardboard printed in 4 colors with matt OPP. A PVC handler which is strong, secure and tight is set to ease its use. The inside has many different foam compartments with thumb grips in order to take out samples. On the side lid, Velcro patches are fixed and they are very discreet.
Find out more about simple tools kit:
– What are the ideal systems to introduce samples?
– Ideas to design construction simple binders