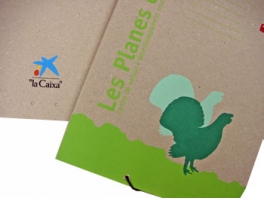 Recently people are getting involved with the environment, it is a growing thought that companies should equalize society and corporate concerns.This is one of the main targets, actually mostly the half of the total customers would pay a higher price for a product manufactured by a social responsible company.
Work to get a greener place, add value to the society, decrease CO2 emissions, manufacture sustainable goods in countries that respect the human rights are trends for some companies. Companies are increasing there corporate social responsibility.
Marketing solutions like packaging or merchandising are products that reflect the corporate image and are focused not only on an atractive design but also in using recycled materials.
USING RECYCLED MATERIALS AS AN STRATEGY
Nowadays a good product with a correct presentation is not enough . We are living in an era where the corporate image should communicate the company's values and commitments withinsociety  and sustainability.
At Mytplast we trust in a more sustainable consumer, that is why we released our new ecologic line, it includes custom folders, notebooks, briefcases… all made of environmentally friendly materials.
The eco line products will add value to your gifts for corporate events, conferences, meetings or product premieres.
Every single company will find an appropriate product in our wide ranging catalogue, we offer custom briefcases, corporate cards,  wire bound notebooks, binders…
Our Eco line is divided in 2 products line, paper over board and raw cardboard. Every product has been made of greener materials for example eco cardboard (100% recycled).
Like the rest of our products, the new Eco line is able to be customized with the company´s logo printed with serigraphy/offset in one or more colors depending on the material.
Details like handles, natural cord closure systems or kraft paper over board are the perfect complements for a stylish, simple and natural finish.
We cordially invite you to visit our Eco line and see for yourself that we can add value to your company.
Related Items:
How to approach packaging: know the right materials for your products
The importace of corporate visual identity and merchandising