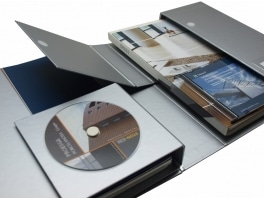 One of the main challenges for any company is to be known by potential customers.
Among the marketing tools it is important to choose those which help us to make the clients decide working with us instead of with the competition. To achieve thisgoal it isessential to use good communication to convey clearly and effectively which are ouradvantages overothers.
There are several techniques to communicate and targetour business philosophy, our way of working and the quality of our products and services.
When working with products produced in a variety of colors and textures, show the whole range on a suitable presentation, comfortable to use and very visual, it's one of the most effective ways to reach customers and specifiers.
MARKETING KITS
Bespoke marketing sets/kits are used to collect all the information on the company which is distributed to potential customers and specifiers and are the best selling point for the sales team. One of the main advantages is that the information contained in the bespoke marketing kit may be adapted for each client kind/type.
SAMPLE PRESENTER KITS
Sometimes the company needs to have several sample presenters as with catalogues, price lists, technical manuals…In this case the best solution are sample presenters sets/packs, a tool adapted to both prescriber and client.
Our sample presenter packs and marketing kits, are made to measure and designed for professionals, prescribers and distributors.
Which sample presenter packsmay I find in Mytplast?
We manufacture your sample presenter made to measure and bespoken with the image of your company. Depending on the kind of product you need to present, we choose the material (cardboard, polypropylene, PVC…) and the most suitable type of printing (screen printing, stamping, offset 1 or more colours…)
With our promotional kits for presenting samples and promoting products, you will get a case with lid and magnetic closure, with a set of die cut and cased bound sheets/plates wherethe sample products are glued on. Its versatility allows to combine the sheet/plate samples according to your needs and create a made to measure sample presenter.
The catalogs for prescribers are designed to carry and present both, printed catalogues and real product samples in a unique pack with separate compartments. It's a really useful system for mortar and wood charts.
One ofthe biggest advantages ofoursampleboxes is thatthey adapt totheir sample sizesanddifferent materials.
Please visitour website andknow all thesolutions we canofferfor your company.
Related Posts:
– Which are the ideal systems for the presentation of sample presenters?