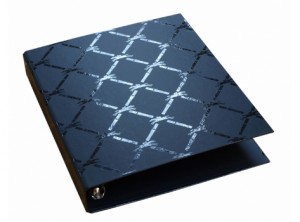 The design of a folder project and the producing of sample presenters require for Mytplast a conscientious planning of the communication needs. We must keep several elements in mind: format, the information is going to contain, target…The type of sample will define/decide also size and form of the container box and type of it, briefcase, box, case or set to contain catalogues and samples all-in-one.
Once we have all the previous information and items sorted the designer will be able to prepare a mock up. When everything is to our liking the folders, cases and all the corporate material will be printed.
At this moment another question arises, no less important than the previous: choosing the suitable kind of printing.
Currently, there are many printing systems available. Since Gutemberg invented the printing press in XV century, the printing techniques have not stopped evolving.
The most versatile are those will explain in this article, as they can be applied to most of surfaces and give reliable and lasting results.
Offset
This technique is an economical process suitable for various type of paper. that supports many types of paper. The results of offset printing are of good quality and quick to obtain. For this reason, it applies to a number of media such as books, labels, magazines and printed varied. The printed surface with this technique allowed a UVI varnish layer, which is often applied to certain areas, such as logos, to enhance them, achieving a very elegant finish.
Screen printing
The main advantage of screen printing is its versatility. This technique can be applied in any medium, regardless of the material or size of the surface. Therefore, one of its main uses is the advertising items (pens, shirts, boxes …). In addition, it's possible to use a wide variety of inks and it's economical for short runs, making it very practical for small businesses.
Hot stamping
This one is not exactly a printing technique, since it does not use ink. What is printed on the support is a metal film. This system is usually done in gold or silver applications to various objects, such as boxes of samples, catalogs or cards, although it is also possible to use other colours. Thermal printing or hot stamping, is ideal for highlighting specific areas of a printed surface, giving a touch of class and elegance.
Related Posts:
Details do matter in printing on the sample presenters
What is Thermoforming in sample presenters?