Do you need congress binders? Mytplast has many customized and handy solutions for congress binders, elegant and made using high quality raw materials.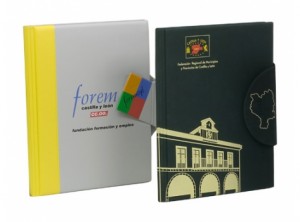 Congress binders are of the most used material to give to lecture assistant, conferences, seminars and other similar events. This type of product has two functions. On one side, it has a practical design so that applicants can take notes. On the other side, it is a very important marketing tool when transmitting your corporative image or brand, as well as theses customized binders are very strong plus they last longer than just the event it was made for.
Aspects to take into account in order to choose the right congress binder
One of the key aspects of a congress binder or suitcase is that they are tailor made, with dimensions, materials, capacity and endings according to their use. Thus, it is very important to take care of the design so that binders get the highest grade amongst customers. Finally, we can add others complementary products such as rings, pockets, pen holders, handle…. Mytplast believes in its professional team and it will advise you to choose the best congress binder for each case.
Congress binders made by Mytplast
In our conference folders you can see:
Congress binders made of OPP with pockets to hold documents
It is a very useful binder aimed to training lectures or seminars/congress lectures. OPP is one of most flexible material and resistant to stains. This makes it very strong within time. We can add a closing system using a reed and a screen printed ending with your logotype.
Congress binders with soft touch ending
Plastic ending with soft touch is sweet and elegant but above all very sophisticated. It is the best solution for professional congress and conventions of any sector. We add them a third body so that documents are well protected.
 Translucide congress binder
Translucide material shows a very up to date aspect. It has the advantage to be resistant to any liquids. Range of available colors is very extended. This binder is perfect for lectures and seminars or to hold your product catalogues. 
Document holder binders are fine for lectures en other trainee sessions because they are designed for students to take notes. On the inside, pockets can be added with a practical pen-holder.
This design has a third body which can be twisted in order to have a binder stand. This detail converts it in a very handy tool for introductions or meetings. It is made of PVC with a ring mechanism inside.
Binder with silver stamping
If you need some kind of sophistication, this congress binder is the model you were looking for: a perfect holder in order to take notes, long-lasting, elegant and on which you can add complementary items such as a practical pen-holder, PVC pocket for business cards or notebook.
A very extended catalogue of congress binder, but what do you really need?
Mytplast advises you regarding your congress binder within you targets and goals required.