---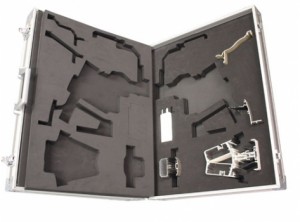 Each sector has specific needs when introducing its products and services to customers. Mytplast is a manufacturer of sample suitcases. The company is aware that quality is important and thus Mytplast offers tailor-made solutions through design or even material and finishing the client wants to use.
Sample binder suitcases and their sectors
Depending on weight, dimension and shape of the samples you may have to introduce to customers, Mytplast will guide you with the best material to use as followed:
Polypropylene. For its resistance toward chemicals and extreme temperatures, flexibility and many other possibilities, this material is one of the most used plastic products in the last decade. It is used to conceive jars, display table, casebound, folders and sample suitcases. It is easily shaped so very efficient to create tailor-made products.
PVC. Plastic very ease to handle, resistant to heat and impacts because of its rigid and flexible texture. It can be used in many appliances such as water bottle, food jars, chemical industry, cosmetics, etc…
Cardboard. Cardboard is a material with different paper layers. It is a very common product to conceive packaging products, jars and boxes of all types.
Glasspack. Type of PVC semi rigid specially indicated for displays and communication. It allows digital printing and screen-print. It is flexible, light and resistant to weather conditions so very indicated for external use.
Foam. It is used to hold samples inside sample suitcases. The foam is a very compact and resistant material so it allows extracting and inserting samples very easily. Thus, it is water jet die cut with irregular forms.
Once we chose the material we are going to use for the suitcase, we also choose the finishing and printed method in order to customize it. Most common techniques are the following:
Offset. Printing method which consists of applying an ink on metallic board to transfer images or texts on a surface using a plastic or silicon cylinder. The ink is soaked on flat or rough surfaces. The 4 colors printing is done through one color board so that we only use one board at a time. Mixing different proportions of 4 colors CMYK (Cyan, Magenta, Yellow and Black) known as 4 colors offset you can produce any color. Some color such as metallic or fluorescent will be applied on exact PMS known as flat inks.
Screen printed. Screen printed is a printing technique which can be used on any material. It is cheap and once we get the first model, the printing can be done thousands of time without losing resolution. Another advantage is that it can be applied on many materials such as cardboard, textile, plastic, metal, cork, wood, etc…


---
Sample suitcases for all products   
Combination of techniques and materials allows designing entirely customized suitcases and adapted to any product form building materials to books. Let us see some examples.
1 – Project boxes
These project boxes are conceived in Polypropylene 0.8mm natural and printed using a combination of screen-print and 4 colors to get a perfect finishing with its logotype and other image or photography you may want to insert.
This kind of suitcase, light and flexible can hold company documents and product samples if not very heavy. It is suggested for packaging, textile, merchandising and advertising sectors.
Its closing system through thumb grip makes it easy to open and close the suitcase. The handle is perfect to carry samples with all commodities.
---
2 – Mortar sample suitcase
Building sector needs strong and resistant sample folders able to nest all rainbow colors and finishes. This suitcase for mortar samples is made of PVC with a 3 lap's structure. Design of 3 laps allows a complete vision of sample with glimpse. Printing 4 colors with matt OPP gives more elegance to final result.
Closing system is made through a reed with Velcro. A Polypropylene translucide handle is added to it, cut and placed on the spine to ease transport. On the outside, a pocket with superior thumb grip has been added in order to insert documents. On business card holder you can place business cards.
On the inside, three Grey PVC thermoformed nests covered with a glasspack printed in 4 colors where you can indicate sample references and characteristics. Glasspack backside has a transfer seal to ease handling of samples.
---
3 – Suitcase for bulk sample
Useful for building and decoration sectors, this suitcase with big sizes it thought to introduce and carry big size samples from ceramic tile samples to tile samples.
These kinds of samples, with big dimensions are very heavy, that is why we must have a resistant suitcase which eases introduction and transport. It is made in landscape shape with 3 laps and a closing system through flap.
The outside is paperoverboarded with textile and printed through screen-print 1 color. Nylon handles are fixed though metallic rivets which are resistant and safe as well as plastic closing system called spindle.
---
4 – Vinyl suitcase for eletrical samples  
This vinyl suitcase printed trough offset with matt OPP is filled with cut foam. That way, samples stay vertically but firmed and at the same time very easy to extract. An elegant and original way of introducing this product and furthermore mainly suggested for building, electrical and interior design sectors.
---
5 – Sample suitcase for wall tiles
Tile samples for walls are big size product that is why dimension chosen is landscape to ease the transport. Box contains similar dimensions to the real sample to offer a full view of what could be the customer´s final project.
This suitcase requires light and resistant material which was made of cardboard paper overboard with an elegant matt finishes inside and outside. The pocket with a cut in the centre is used to add a PVC handle.
---
 6 – Suitcase for specific samples 
Introduction of irregular sample shapes has a solution with a strong aluminum suitcase using foam cut tailor-made nests.
It is especially useful for aluminum samples, electrical products or any other samples with complex shape. Protection flaps made of cut foam are very practical to remove thanks to its thumb grip system within the foam.
What kind of product/sample do you need to transport or introduce?
We help you designing your sample case!