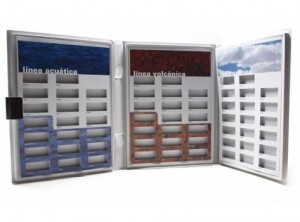 The unique goal of any company is to sell. In order to achieve it, we have to put into practice different marketing measures well structured and aimed to get customers, product promotions or have cutomers be loyals.
Depending on company sector, means that you can use to get to your customers can vary. Sample suitcases are the best option to achieve management and to introduce and visualize your products.
Sample suitcases are an excellent tool to show externally a product catalogue but it is also important to have certain request: A good design, quality materials and endings, easy to transport and above all to use… Thus, it must be adapted to all kind of products.  A sample presenter for jewels cannot have the same characteristics than a sample binder for ceramic tiles for instance.
Regarding Building sector, samples are heavy and sometimes quite big in size. Sample binders must be resistant and light at the same time to avoid unnecessary weight. Your customers would like to see and touch samples so you must easy access to them so that customers can see them very near.
A sample binder with textile samples inside is a lot less heavy using a design which avoids that samples are getting dirt, wrinkle or deteriorate.
In any case, when the sales person visits a customer, he does not get much space nor much time to attend and see the catalogue. When more attractive and practical it is, more impact it will do so you will have more possibility to close an order.
You can examine sample suitcases which can achieve a high percentage selling ratio assuming a safe and delicate transport.
What are the advantages to offer a sample suitcase?
A binder which encloses conditions already talked: design, quality, easy to use, light and resistant will be key aspects in order to success into your business for several reasons:
Products are protected and safe towards possible loss or transport problems.
Customers can visualize catalogues very comfortably.
You can add additional information about samples (dimensions, technical data, material, prices) for customers to clear their doubts on the process.
Sales agent has the opportunity to exchange with customers, offering the possibility to touch samples.
Sales agent has the opportunity to exchange with customers, offering the possibility to touch samples.
Binder customization with company logotype and color chart gives an added value and reinforce brand image.
Customer will focus his sight towards the product with a global vision which will get him to get a higher sale rate.
Whatever your activity, you must not decline advantages which can offer you a samples binder. Shall we talk about your samples in Mytplast?