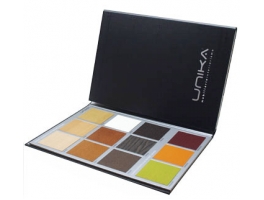 Our proposal is to offer a large scale of tailor-made binders for all sectors. Mytplast manufactures PVC and cardboard sample binders. These are some possibilities offered by the company Mytplast to conceive your sample binder.
44 types of sample binders
Mytplast is the specialist for many years in conceiving and selling sample binders, here are the options that require different sectors such as:
---
Made of cardboard with printed sheets and matt OPP. Simply the best with an elastic closure system.
---
Made of cardboard with printed sheets and matt OPP. Simply the best with an elastic closure system.
---
Binder made of 3 parts with samples glued on the inside. Ideal to introduce several samples and keep them in a case bound.
---
Folders like sample binders are very adequate in Ceramic sector. This binder is very attractive thanks to the pictures which allow looking at the product surely installed.
---
Folded binders like a book with ceramic samples. We can add some cut sheet and glue it on the cover to include different technical data regarding the samples.
---
2 laps binder for ceramic or wood sample
2 laps binder. Samples are glued on the inside. The binder is folded both sides with printed sheets. The inside lap avoids contact between samples.
---
Binder like 2 laps binder
This kind of binder with big samples glued on the inside allows customers to see sample sides.
---
PVC grounds samples are cut according customer needs and also sticked with client´s specifications. The sample binder has 3 laps with a large variety of sample.
---
3 laps binder for shower nest
3 laps compact binder for resin mineral sample. Samples can be touched to perceive its finishes. Rounded shape of the samples gives it an original touch.
---
The oblong binder is different but practical. Foam nests are tailor-made cut and adaptable to different shapes.
---
3 laps for Ceramic sector
High quality 3 laps binder with matt OPP. UVI shiny varnish gets better pictures. Each lap has a foam nest cut for a specific shape.
---
3 specific lap binders to introduce wood samples. It includes 2 smoothly foam nests. The third lap is added to place catalogues and technical documents.
---
3 laps with handle for brick sector
Solid and resistant, these 3 laps have a flexible handle. High quality foam nests are adaptable to the sample width easily extracted and inserted using thumb grips.
---
Original design with 4 laps, very practical to show large color charts. Foam nest is cut and can be added a PVC crystal pocket.
---
Elegant and practical two in one. It combines a ring binder with technical sheets and a sample binder with foam nests and thumb grips in order to ease handling sample process.
---
Binder like catalogues for tiles
2 laps binder with foam nest on the inside. Also added an adhesive pocket for product catalogues and a closure system using a reed with a button.
---
3 oblong laps with closure system
It has 3 laps made of cardboard. The inside of two of them has foam nest cut. The third lap has a PVC crystal pocket in order to see product catalogue.
---
2 laps made of cardboard with thermoformed nest
Sample binder with a magnetic closure system folded with textile paper sheet. The nest is made of thermoformed PVC and a Glaspack coated sheet.
---
3 laps with thermoformed nest
3 laps binder made of folded cardboard with a Black tailor-made PVC mould for specific samples. The outside is printed 4 colors, inside in Black with a closing system flap.
---
2 laps binder with thick PVC mould
Binder made of cardboard, printed in Offset 4 colors with shiny lamination. The inside tray made of PVC is welded to the cover and adapted to its shape.
---
Binder made of cardboard with magnetic closure system
3 laps binder with sheet and inside sheet printed in color. Added two thermoformed trays with thumb grips. The magnetic closure system assures an adequate transport without any incidence.
---
Thought specially for crystal samples, the inside has two high quality PVC thermoformed trays and tailor-made.  We also have a magnetic closure system.
---
Sample binder with micro channel cardboard
Binders for Ceramic samples with micro channel cardboard nest and folded with a printed folding. Nests protect the sample and hide the sides. Precision work with an excellent result.
---
4 laps binder with cardboard nests
The inside has 2 cardboard nests folded with specific sizes in order to place samples. Magnetic closure system is discreet and elegant with 4 magnets on the inside of the cover.
---
Easy to use, its cardboard nest allows introducing different sample width and dimensions. Griddles are useful to save within a case bound.
---
3 sheets binder with natural cardboard
Original Square made of 3 laps in cardboard micro channel with Kraft soft finishes. It can be used as a PLV. For its shape it is very used for natural or ecological raw materials.
---
4 lap binder with ceramic products. The inside covers can be widely opened vertically offering a fantastic and complete view of the product.
---
Original solution with natural Stone and the outside made of cardboard + button reed. The inside has little boxes mad of plastic with glued flaps on the outside.
---
Sample binder like a cube with handle for shipment
Very useful for all types of material. It has an original design with 4 laps held vertically and closed through a reed.
---
An original idea with a 3 laps structure and squared shape. It opens using a lectern to show samples. 
---
PLV Binder with lectern for desk
Very useful to place on sales point. This product made of cardboard has a lectern on its back. It is cut and glued at a specific shape.
---
Tile sample binder for desks
PLV desk binder made of PVC. Original piece of work which has several mirrors which produce ground effect like thousands of tiles.
---
Sample binder on sales workshop made of PVC. The closure system has a magnetic flap which allows vertical introduction like a PLV for desk through a triangle prism.
Discover the options of PVC binders.
---
Desk binder made of 3 laps
Made in vinyl and combining different printing methods to get impressive finishes. Its third lap allows the binder to use a lectern mode.
---
Display Binder made of 3 laps with PVC pocket using printed vinyl. A unique piece of work, light and easy to carry.
---
PVC Tailor-made with PVC thermoformed inside nest and thumb grips. Closure system through buttons like a video case bound.
---
Perfect for outside covering, this PVC two laps binder has thermoformed nests with laces to block samples.
---
White PVC 3 laps binder with a triangular flap plus a PVC pocket business card welded at the bottom of third lap.
---
Very specific for new generation solid sample surfaces, it is made of PVC with 4 thermoformed trays. It is carried very easily using a handle on the spine.
---
Two laps for sample accesories
plus cardboard on the inside gives strength to this sample binder where the moulds have been manufactured at a specific size according to the samples given.
---
Folded cardboard with an outside printed sheet and PVC welded tray on the flap to place the samples inside the binder. The inside PVC is very thick to give more consistences.
---
Sample binder for crystal and wood
Four laps made of PVC for this tailor-made binder. It has a cover, inside cover, spine and two flaps for inside introduction which close through magnets.
---
Two or three laps PVC binder with an Offset printed PVC sheet. Insides with PVC mould nest also printed. Closure system through buttons.
---
This binder is manufactured in vinyl and 4 colors printed. The inside has thermoformed nests with thumb grips to insert and extract samples.
---
Discover our solutions of boxes, case bounds and suitcases for samples to ease sample shipping. If you want a complete service, Mytplast also has solutions in handling, filling, cutting and tooling the samples.
Please tell us your idea, we advise you regarding best options to introduce your samples
Shall we talk about your Project?