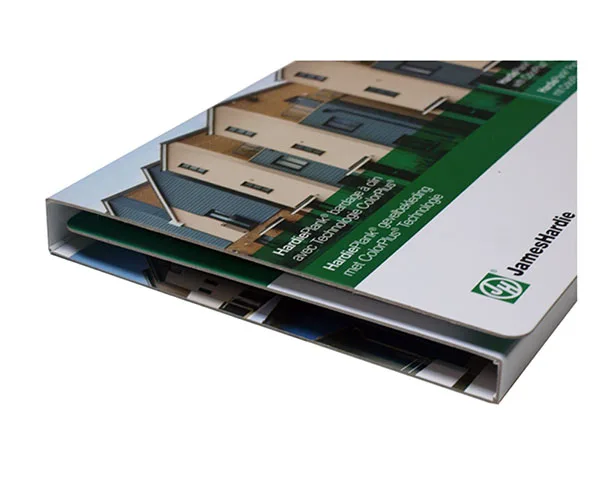 Vista exterior carpeta para muestrario para fachadas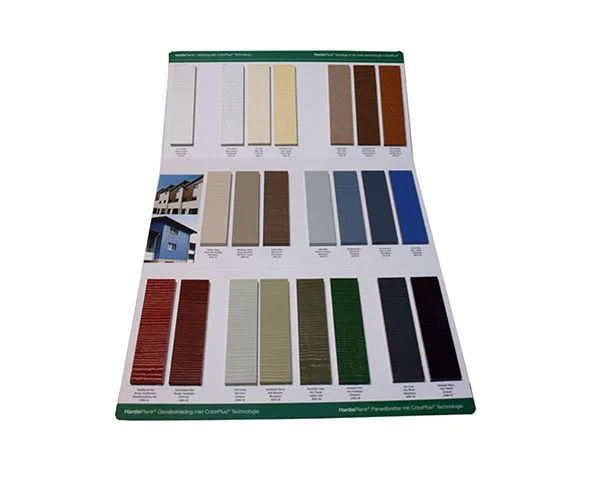 Vista interior carpeta para muestrario para fachadas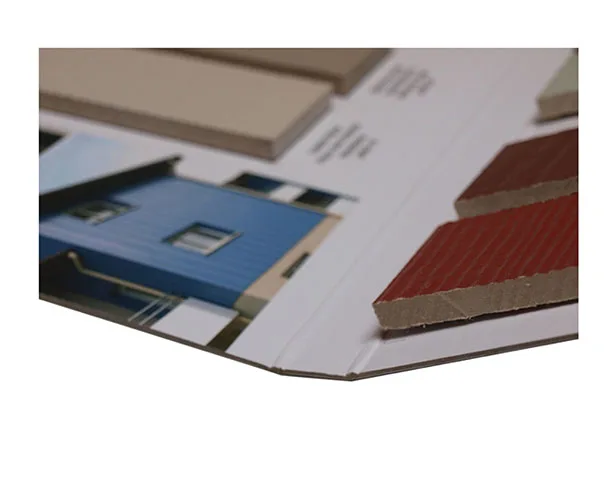 Vista detalle carpeta para muestrario para fachadas
POS folder for cladding samples
A three-fold triptych format sample presenter suitable for fibre cement cladding samples. The three parts accommodate the full range of cladding colours and textures that our client offers. The presenter is made from 1.5mm thick board which is covered with 4-colour offset printed and matt laminated paper on the exterior and the interior of the folder. Folder is then die-cut to shape with rounded corners. We delivered this presenter as a completely serviced product, from design, manufactire, sample preparation, sample handling and delivery: the client sent us the large cladding pieces from which we cut the sample pieces according to instructions. Sample pieces were then placed inside the folder in the order instructed by the client and as referenced by the colour chart printed inside the folder. The resulting sample folder is a hassle-free solution for the client and an impressive reference guide for their customers!
Characteristics of POS folder for cladding samples
Materials: Lined cardboard
WHY MANUFACTURE WITH MYTPLAST
YOUR POS folder for cladding samples
OVER 40 YEARS
OF EXPERIENCE
100% CUSTOMISED
SOLUTIONS
If you are interested in the product POS folder for cladding samples or need more information
Basic information on data protection
Responsible

MYTPLAST, S.A.

Purposes
To manage the sending of requested information.
Legitimation
You may withdraw your consent at any time.
Recipients
Your data will not be passed on to third parties except in the case of legal obligation.
Rights of the interested party
To access, oppose, rectify and have your data deleted, as well as other rights as explained in the additional information.
You can access additional and extended information here.