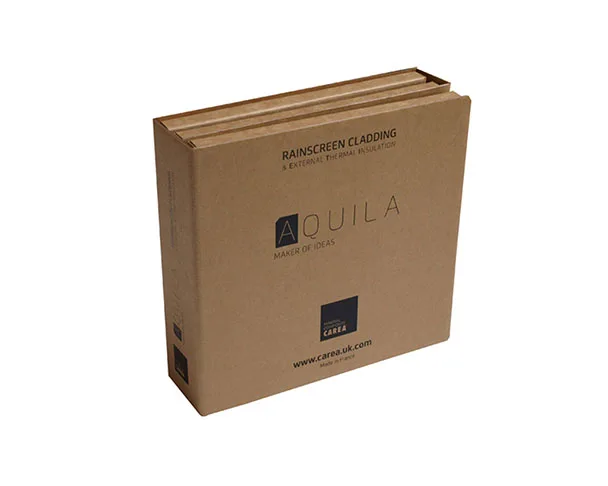 Vista exterior de muestrario tríptico para paneles exteriores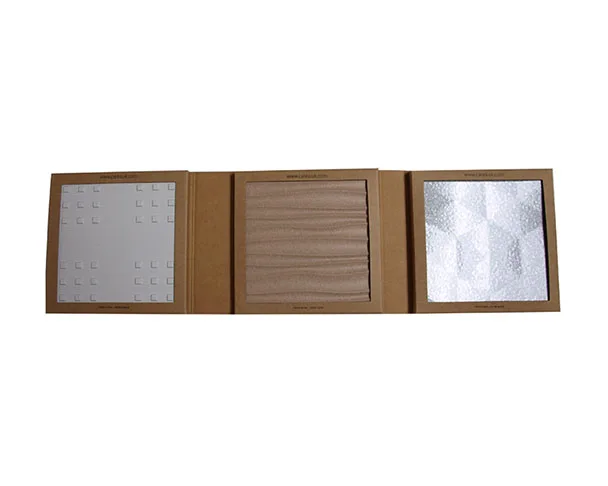 Vista interior de muestrario tríptico para paneles exteriores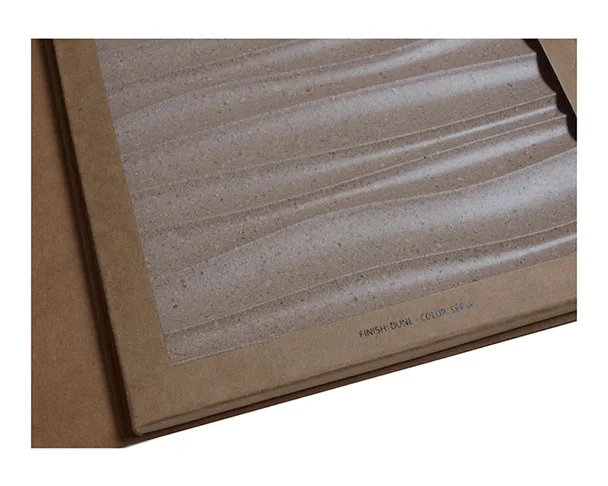 Vista detalle de muestrario tríptico para paneles exteriores
Sample folder for cladding systems
This three panel sample kit for mineral composite cladding products folds into a neat square size for great presentation. Folder is made from microfluted cardboard that is lined with with smooth natural kraft paper which is cut to size and screen printed in black on the exterior. Attached to the inside of each panel there are folded blocks, made from the same smooth kraft paper covered board that is printed with sample references, housing the 20x20cm cladding samples. This sample presentation kit is intended to be given to achitects and specifiers, who can keep it open on their desk or on shelf. The simplicity of the design and the materials used in the folder, combined with the beautiful aesthetics of the product work to emphasize the impact of the total package!
Characteristics of Sample folder for cladding systems
Materials: Kraft cardboard
Interiors: Microflute Cardboard
Printing: Screen printing
WHY MANUFACTURE WITH MYTPLAST
YOUR Sample folder for cladding systems
OVER 40 YEARS
OF EXPERIENCE
100% CUSTOMISED
SOLUTIONS
If you are interested in the product Sample folder for cladding systems or need more information
Basic information on data protection
Responsible

MYTPLAST, S.A.

Purposes
To manage the sending of requested information.
Legitimation
You may withdraw your consent at any time.
Recipients
Your data will not be passed on to third parties except in the case of legal obligation.
Rights of the interested party
To access, oppose, rectify and have your data deleted, as well as other rights as explained in the additional information.
You can access additional and extended information here.