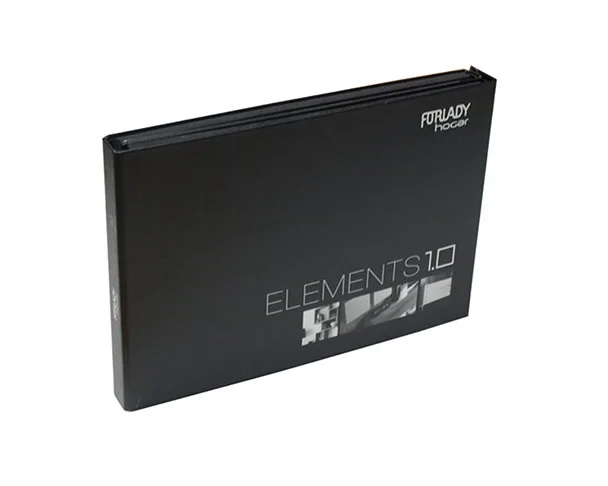 Vista exterior de muestrario de acabados laminados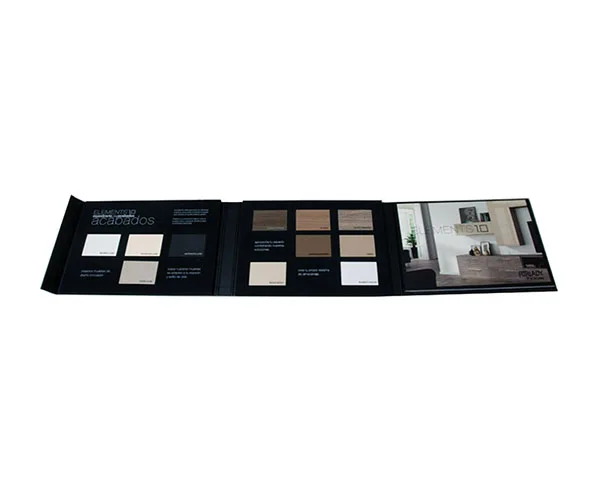 Vista interior de muestrario de acabados laminados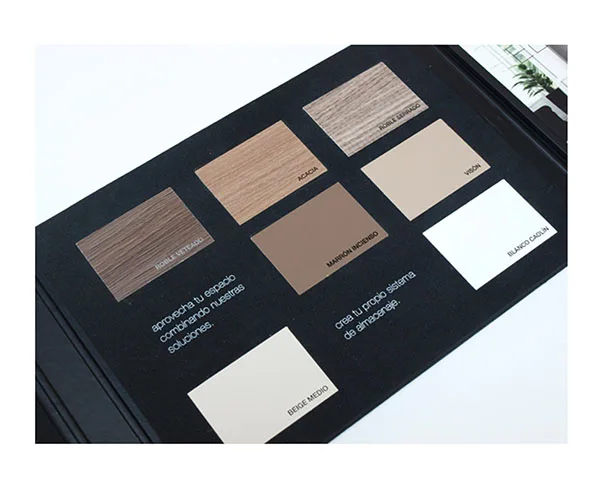 Vista detalle de muestrario de acabados laminados
Presentation folder for laminate samples
A stylish sample presentation folder reflects the quality of this kitchen manufacturer's products! Four-colour offset printed and matt laminated three-panel folder closes with magnets. The sample folder houses the product sample collection in a high density black foam, which is screenprinted with marketing message. The sample references are printed directly on the pieces and placed in the custom die-cut slots, and catalogue is placed inside the clear PVC pocket on the inside of the third panel. The project was a smooth collaboration with the client and Mytplast - we delivered a complete solution, from creative guidance to sample handling and delivery. En este proyecto hemos trabajado codo con codo con nuestro cliente durante todo el proyecto, asegurándole un seguimiento personalizado. También nos hemos encargado del relleno del muestrario con las muestras de laminados que nos hizo llegar el cliente, ya cortadas a medida.
Characteristics of Presentation folder for laminate samples
Materials: Lined cardboard
WHY MANUFACTURE WITH MYTPLAST
YOUR Presentation folder for laminate samples
OVER 40 YEARS
OF EXPERIENCE
100% CUSTOMISED
SOLUTIONS
If you are interested in the product Presentation folder for laminate samples or need more information
Basic information on data protection
Responsible

MYTPLAST, S.A.

Purposes
To manage the sending of requested information.
Legitimation
You may withdraw your consent at any time.
Recipients
Your data will not be passed on to third parties except in the case of legal obligation.
Rights of the interested party
To access, oppose, rectify and have your data deleted, as well as other rights as explained in the additional information.
You can access additional and extended information here.